sunday Worship at 10:00 am
You are invited to our in-person or virtual worship gathering every Sunday at 10 AM.

Sunday, June 7, 2023, 10 AM

It's youth Sunday! Gather with us and experience belonging as our young people lead us in worship and a special message.
Mark your calendars – Church of the Foothills and Irvine United Congregational Church invite you to a powerful, moving choir concert on June 11, 7 PM. This is free and open to the community.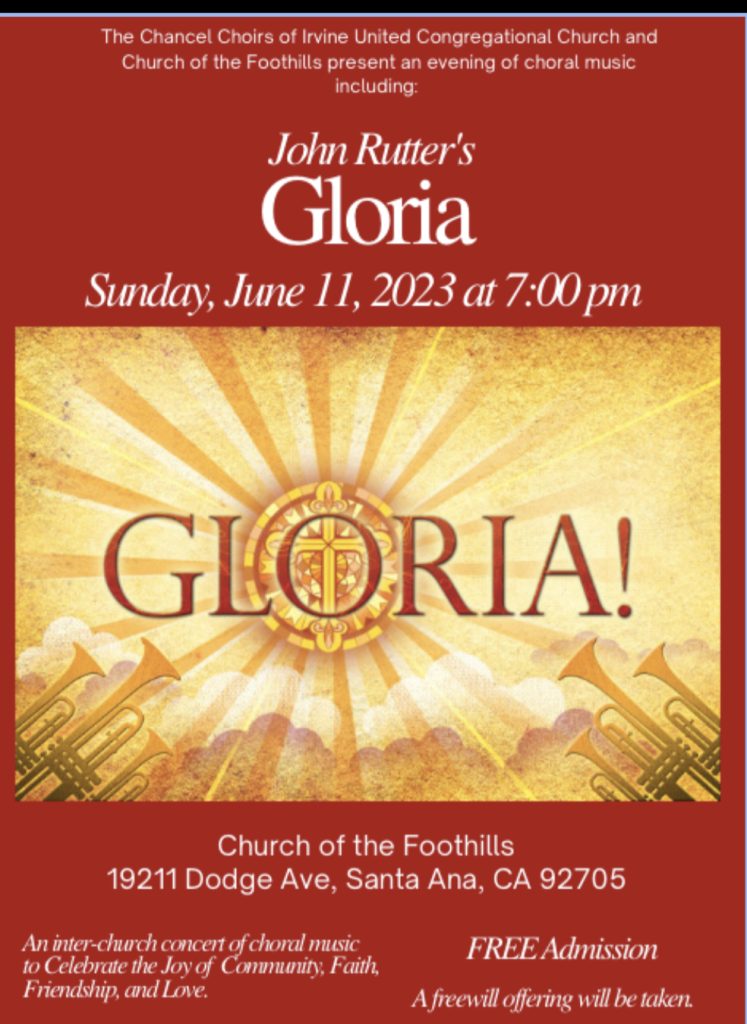 Coffee Shop Hours
Thursdays, 9 AM – 11 AM

Rev. Nathan Hill is keeping office hours at the Lost Bean in Tustin. Drop by and have a cup of coffee with your pastor, ask questions, share stories, and connect. (Please check Facebook to make sure the pastor is in, since his schedule can fluctuate.)
"All are welcome, regardless of ethnicity, race, sexual orientation, or gender identity," the pastor said, my first Sunday at CHOTF, 13 years ago. I am blessed to be a part of this inclusive, warmly welcoming, and activist community of faith.
Church of the Foothills fills my need for progressive morality. As a Christian, this church community fills what I feel is the justice, love and care presented in the words of Jesus Christ.
We have fun as we do good stuff in the world to care for people and the planet. I see we joyfully worship but take care of each other too when the need arises. I call that walking our talk.
19211 Dodge Ave,
Santa Ana, CA 92705
MON -FRI: 9:00 am- 2:00 pm

To give you may send a check to the church office or click the link to give online. Even enroll in autopay to give each month. 
Church of the Foothills, Attn: Fin. Sec.
19211 Dodge Avenue
Santa Ana, CA 92705